India Yoga School
India Yoga School is a premier destination for those seeking to deepen their yoga practice or become a yoga teacher. Located in North Goa, just a short distance from the beautiful Mandrem beach, the school offers a peaceful and serene environment for students to learn and practice.
India Yoga School was founded by Shivansh, and specialises in traditional Hatha Yoga, Ashtanga Vinyasa Yoga, Aerial Yoga, Yin Yoga and Dynamic Vinyasa Yoga.
With a wide range of styles and classes available, there is something for everyone at India Yoga School, whether you are new to yoga or an experienced practitioner, the knowledgeable and experienced teachers at India Yoga School will guide you on your journey towards personal growth and wellness.
Our Teachers

Founder of India Yoga School
Shivansh was born in Varanasi and raised in Gorakhpur the origin place of the Natha Yoga. Gorakhpur is also known for Gita Press the world's largest publisher of Hindu religious texts like Bhagavad Gita, Ramayana & Mahabharata etc.
Shivansh was born in a traditional Bhakti Yogi family; he learnt the traditional Bhakti yoga practices in his childhood from his grandmother.
Shivansh learnt yogic concepts from different masters all over the India. From the very Southern India, to the Northern India and the far North-Eastern parts of India, Shivansh has explored many variations of yoga practices & philosophies, this variety of yogic experiences have evolved into the deep practical knowledge that he shares with his students.
From childhood till now, Shivansh has mastered a variety of different activities, sports & artistic pursuits, which have helped him become the yoga teacher he is today; someone with diversity of experience and a modern practical approach to the traditional yogic practices of India.
What has lead Shivansh into his approach today comes from his varied background; following the traditions of his family, Shivansh practiced wrestling in his teenage years. After graduating as a software engineer from NIT Patna, Shivansh worked as a software developer for a multinational company.
Since his college days, he has been developing his artistic pursuits professionally as a theatre actor, director & freestyle rapper. Shivansh received his Post Graduate Diploma in Acting and Theatre-making from the prestigious Drama School Mumbai.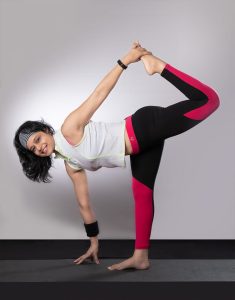 ERYT-500 Yoga Alliance
Archita, a qualified company secretary and lawyer by qualification, made a bold decision to follow her passion for teaching yoga. She felt a deep calling to explore the profound teachings of yoga and share them with others.
As she delved deeper into her practice, Archita discovered the immense power of yoga and its ability to bring harmony to the mind, body and soul. The more she practiced this ancient wisdom, the stronger her love for yoga grew.
Her commitment to personal growth and her unwavering dedication to the practice of yoga make her an inspiring role model for those seeking to live a life of purpose and authenticity.
She's an accomplished yoga teacher with an extensive background in yoga education. 
She has multiple certifications namely 200 RTY Hours in Ashtanga Vinyasa as well as 500 RTY Hours in Advanced Yoga. She aims at inspiring her students to embrace yoga as a way of life. Her dedication to yoga is further evident from her specialized training in Aerial Yoga and Prenatal Yoga. 
Her knowledge of various yoga styles allows her to create dynamic and engaging classes which cater to the unique needs and abilities of her students. 
Archita's unique background and dedication make her an exceptional teacher who guides her students toward holistic well-being. 
Her classes go beyond the physical aspects of yoga, delving into the spiritual dimensions of the practice. Her classes are infused with mindfulness, meditation and breathwork which create a sacred space for her students. 
In Archita's empowering presence, you'll discover that yoga is not just a practice, but a gateway to inner happiness and peace.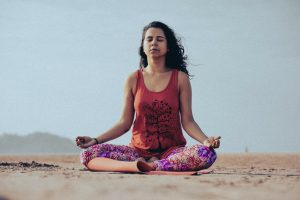 ERYT-500 Yoga Alliance,
Rashmi  Born and raised in a small town in Meghalaya, she only came to learn of yoga's existence when she was a late teenager. She practiced yoga for the first ever time when she was in her 20s. But after eight years of two corporate jobs she finally took the leap to dive deeper and become a full-time yoga student and practitioner.
Today, she never gives up on a chance to say 'yoga has changed my life'. She is always amazed by how 'the breath', which is within us from the second we are born, is so remarkable that it can change the whole game of one's existence. And hence, she has chosen to focus along the path of breathing exercises.
In her yoga journey she has discovered ways to find mental clarity, emotional balance, and physical strength, with the help of breath, and now she wants to help others discover the same (or something else more fitting) for themselves. 
After years of struggling with the negatives of conditioning and its serious after effects she says she has now truly understood that she doesn't need to chase anything or anyone to make her life complete. Life is right here and right now in this moment. To live a complete and full life of freedom is to breathe with your whole being, stretch till your capacity, and believe in your positive intentions. 
"Peace just finds a way to find you when you give your best."

ERYT-500 Yoga Alliance
Rahul Gupta is a highly experienced and well-trained yoga teacher with 10 Years of experience. He has completed multiple yoga teacher training courses, including a 200-hour Yoga Teacher Training Course, a 300-hour Advanced Yoga Teacher Training Course, and a Sadhana Intensive Course at Sivananda Yoga, as well as a Yoga Instructor Course at Bihar School of Yoga. Additionally, he has spent over 3 years studying and practicing yoga at Sivananda Yoga Ashrams in Kerala and Madurai. He has also had the opportunity to study under experienced teachers such as Swami Mahadevananda and Swami Niranjanananda, which has further deepened his knowledge and understanding of yoga.
He has taught as a senior teacher at Sivananda Yoga for 3 years before heading out to share his knowledge. He is known for his positive energy, accessible teaching style, motivating approach, and powerful and profound adjustments. He is able to observe and adapt to the needs of his students, making him an effective and patient teacher.